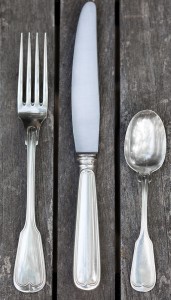 A common question at many of our stores is: " I know that you buy gold, but do you also buy silver?".  The answer is YES!  We will buy your solid silver jewelry, silverware, and bullion.
Now, how do you know if it is solid silver?  The two most common markings for solid silver is the number "925" or the word "sterling". These markings may be very small, and will be found most often on the back or bottom of a silver item. While these are the most typical, they are not the only markings for silver. If your pieces have another marking/hallmark, or no markings, they may still be silver.
The only sure way to find out exactly what you have is to bring the items to your nearest Gold Guys store. We will be happy to check them out for you free of charge!