The history of gold dates back millennia, having first been used as a monetary store of value as early as 500 BCE. Its role has shifted many times throughout the centuries, from serving as a form of currency and as a standard economic value basis to now primarily serving as a diversification hedge against risk and inflation.
Still, throughout the centuries, gold has always been relied on as a key indicator of the states of global economies and as a means for anticipating what may be on the horizon in terms of fiscal growth.
Here is a closer look at the history of gold and of gold prices throughout the past 50 years to help inform the direction gold may be headed in the coming years and why now is an ideal time to sell your gold.
A focused, 50-year view
As mentioned, the history of gold dates back thousands of years, and there is a lot to learn about its role in global economies and in how it has helped shape the major financial trends and events of human history.
But to achieve a more focused and relevant view of the price of gold, we will take a look at the past five decades exclusively to understand how gold behaves and impacts the modern financial world.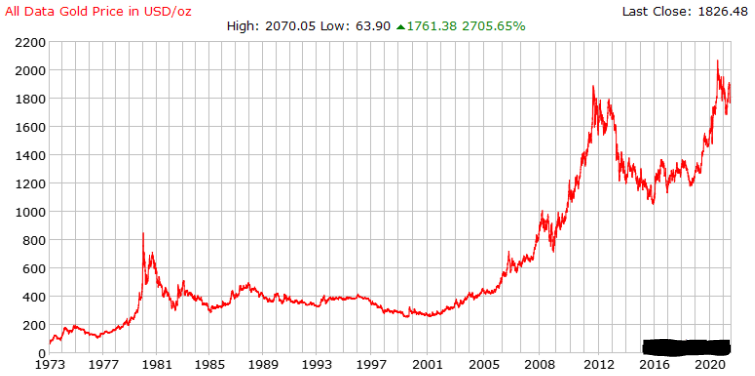 1970s: Moving off the gold standard
The story of the past five decades really begins in 1971 with President Nixon telling the Fed to stop honoring the dollar's value in gold. This move meant foreign central banks could no longer exchange their dollars for U.S. gold and ultimately was the final step in moving the U.S. dollar off the gold standard once and for all.
The main intent of this move was to try and end stagflation – a combination of inflation and recession – despite the fact that inflation was and still is primarily a result of the rising power of the dollar. In 1976 – five years after gold and the dollar were no longer directly linked – the price of gold shot up to more than $120 per ounce.
1980s and 1990s: Fighting inflation with interest rates
By 1980, the price of gold had increased to more than $800 per ounce as a hedge against double-digit inflation, which the Fed eventually ended with double-digit interest rates. This move, however, did cause a recession, which resulted in the price of gold dropping to near $400 per ounce. Gold generally remained at this level until 1996, when it dropped below $300 per ounce in response to steady economic growth.
The '80s and '90s showed instances of a now decades-long trend of investors turning to gold during times of economic distress – such as the 9/11 terrorist attacks, the 2008 financial crisis, and the global recession brought on by the COVID-19 pandemic.
2000s to today: Unprecedented bull runs
The horrific events and subsequent economic fallout of 9/11 began a nine-year bull run for gold, which saw its price increase each year until 2013, peaking at more than $1,900 in August of 2011. The price of gold then fell and settled just above $1,000 for several years before once again spiking in 2019 and 2020 in response to the COVID-19 breakout and pandemic.
What the history of gold prices means for today
In analyzing the price movements of gold over the past five decades, the most prevalent trend is the increase in gold prices during times of economic uncertainty, followed by price decreases and periods of stability during the years of economic growth in between.
If history is a guide, the recent highs experienced during the current financial crisis may be ready to decrease and/or steady in the coming years as the economy picks back up and investors regain confidence in traditional stocks and bonds. This means right now is an ideal time to sell your gold to capitalize on the favorable price trends of the past couple years.
Gold is now more highly valued than it has been at essentially any other point in history – but this upward trend is not guaranteed to last forever. 2021 is a perfect time to sell your gold jewelry, coins, bullion, and any other form of the precious metal you may own and be looking to turn into cash.
Get more for your gold with Gold Guys
Gold Guys specializes in helping you get a great price for your gold, silver, platinum, and other precious metals, working closely with you to ensure you're in full control of the process from start to finish. We're proud to have received an A+ rating from the Better Business Bureau, speaking to the dedication and level of service we provide to each and every customer.
Request your mail-in kit today to receive a free, no-obligation offer for your precious metals and diamonds.