Gold is ultimately an investment, and as with any investment, the overall goal is to eventually sell for more than your initial price.
This is especially true for gold, which has no usable value until it is sold for a defined quantity of fiat currency. Let's face it – the days of laying down a couple gold bars in exchange for property are well in the past.
But how can you make sure you're not just making some profit, but are instead truly capitalizing on your gold's value?
This is where timing and observation are particularly critical in selling valuable materials like gold. And in 2020, the opportunity to be had selling your gold is greater than it has been in several years.
Here are a few reasons 2020 is the perfect time to sell your gold online.
The price of gold is higher than it has been in several years
The short-term price of gold is fairly volatile and difficult to predict, but in general, gold's value has been steadily increasing for the better part of the past half-century – and especially in the past five years.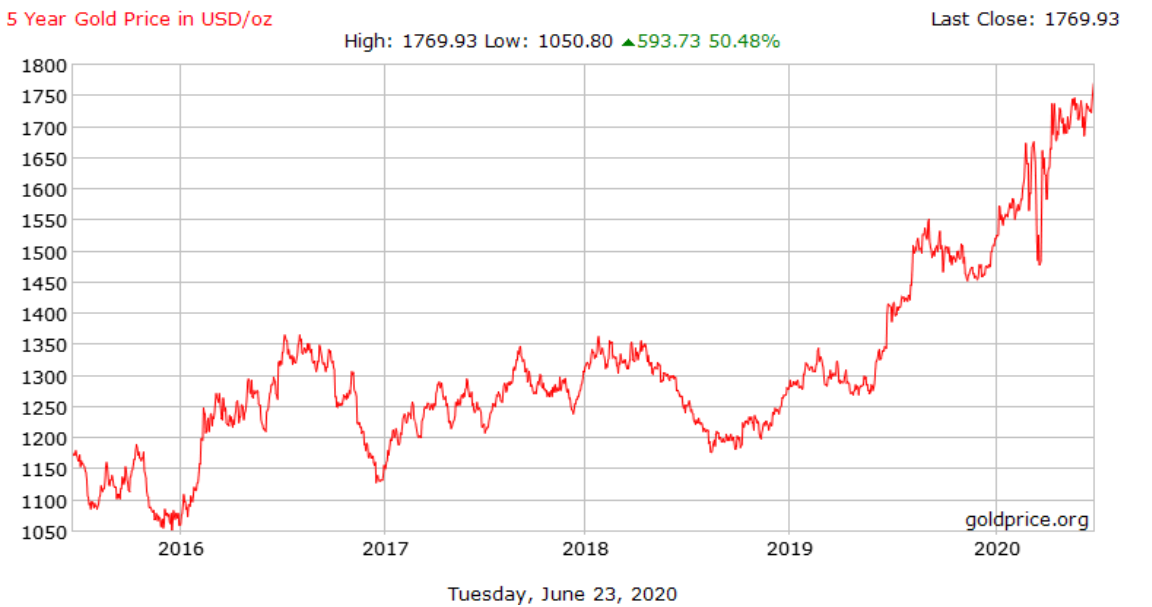 The two most recent spikes in the gold market immediately followed major global events – the 2008 financial crisis and the Brexit vote in 2016.
During both events, the stock markets crashed and investors rushed to gold to serve as a more stable vehicle in weathering the storm. We're seeing something similar in 2020.
Gold is providing security amid COVID-19
As with previous global events, the outbreak and spread of COVID-19 has dramatically affected nearly all areas of life – and the economy in particular.
Many businesses have been forced to close and many workers have been furloughed or otherwise left without work. The consequent dip in the stock market has yet again led to a rise in gold demand and gold prices.
There's a reason Warren Buffett famously coined the phrase, "Gold is a way of going long on fear." The lesser volatility of gold compared to traditional stocks has made it an attractive avenue for investors dealing with considerable fear and uncertainty in 2020 and beyond.
So if you're someone who owns gold, how can you capitalize on this momentary surge and turn your gold into green?
Thankfully, selling gold online is now easier than it's ever been.
Selling gold online is quicker and easier than ever
The days of needing to go to a store and interact with a gold seller in order to sell your gold are long gone. It's now easier than ever to sell gold online via a mail-in service.
With Gold Guys – the number-one-ranked mail-in service in the U.S. – you're in control of the transaction from start to finish at no cost to you.
Here's how selling gold online for free with Gold Guys works in five easy steps:
Fill out the form to request a mail-in kit
Receive your mail-in kit from us in 3-5 business days
Package your items
Mail your prepaid, insured package through UPS to our location
Receive your offer over the phone
If you're not 100% satisfied with your offer, we'll return your items completely free of charge. But honestly, we're confident you'll be satisfied.
Gold Guys pays the most
Gold Guys is proud to honor our statement that we pay the most for your gold and other precious metals. In fact, if you receive a reasonable quote from elsewhere for more money, we'll beat it – every time. We make sure you maximize your profit in selling gold and that the process is easy and painless.
Contact us today to learn more about how to turn your bits of gold into mountains of green.