For collectors and bullion investors with a special interest in rare coins, the 1972 Eisenhower silver dollar is a particular attraction for a number of reasons. Despite having not been minted in nearly 50 years, the silver Ike can still fetch a considerable price in today's market depending on a few key factors.
Here is a closer look at the different types of the 1972 Eisenhower silver dollar and how to go about determining its value.
About the silver Ike
In 1972, the U.S. Mint created more than 170 million Eisenhower dollars – but only around 2 million of those were silver. The rest were copper-nickel clad, which typically achieve less value because of their increased supply and lack of silver. Still, some of the copper-nickel clad Ikes do possess a significant numismatic value – that is, the price you could reasonably expect to receive through a sale.
Numismatic fair market value of coins is primarily determined by four key factors:
Scarcity
Condition
Supply
Demand
Now, let's take a look at what separates the different types of 1972 Eisenhower dollars.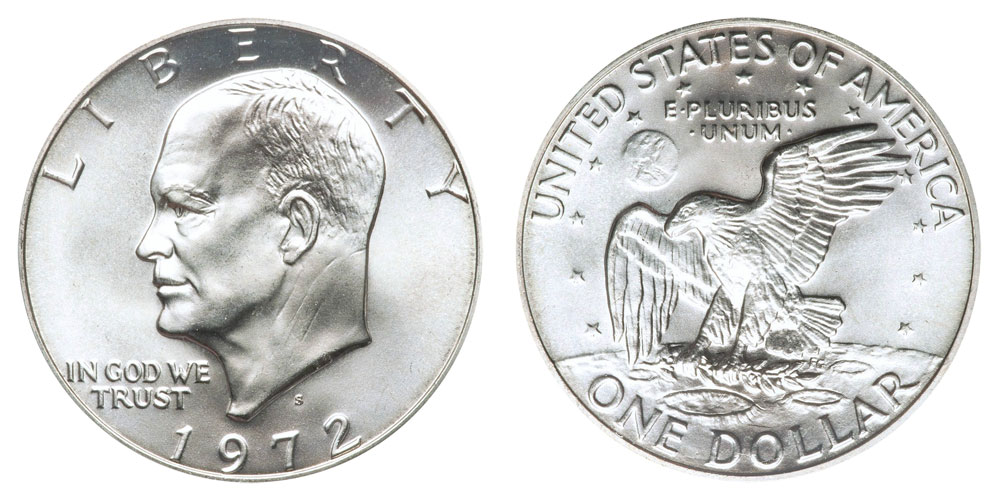 1972 Copper-Nickel Clad (Varieties 1, 2, and 3)
All 1972 Philadelphia-strike Eisenhower dollars fall into one of three varieties that can be identified by looking at the coin's reverse. Both sides of the coin were designed by U.S. Mint Chief Engraver Frank Gasparro, who also designed the Kennedy half dollar reverse and the Lincoln cent Memorial reverse. The silver Ike was to serve as an ode to both President Eisenhower himself and to the 1969 Apollo 11 moon landing.
On the reverse side of the coin depicting the Apollo 11 insignia, the Earth is visible above the eagle's head, while North America, Central America, and the Caribbean are also featured. It's the appearance of Florida and the Caribbean that differentiates these three varieties.
On the first variety, Cuba appears as a teardrop rather than a crescent-shaped peninsula. The strike is also softer, resulting in a low-relief appearance.
On the second variety – which is the rarest of the three – Florida looks more like a triangular funnel, while the Caribbean islands are fainter in appearance.
The third variety is the most geographically correct, with Florida having more detail on its gulf coast and Cuba also looking more true-to-life. Hispaniola and Jamaica are also more visible on this variety.
1972-S 40% Silver Clad and 1972-S 40% Silver Clad Proof
The two types of 40% silver Ikes are both packaged individually for sale to collectors, noted for their "S" mintmark below President Eisenhower's neck on the obverse. If the coin has a "D" mintmark or no mintmark at all, then it's a sure sign the coin is not silver.
These coins are often referred to as "Brown Ikes" or "Brown Pack Ikes" due to their original government packaging, which is a brown, faux woodgrain cardboard box. There are still many silver Ikes in their original government packaging, but as time goes on and more are removed from their holders, those still intact may be able to receive a premium price.
So what are silver Ikes worth?
The value of a 1972 Eisenhower silver dollar will generally vary anywhere from a few cents over face value to – on extremely rare occasions – thousands of dollars. The latter is an uncommon and best-case scenario, with the coin's value ultimately depending on the type of coin and on whether or not it is 40% silver or copper-nickel clad. In most cases, a 1972 Eisenhower silver dollar will be valued at no greater than a few dollars. Those made of silver tend to hold the most value and have long been popular with collectors and bullion investors – and the same is certainly true today.
Get more for your coins with Gold Guys
Gold Guys can help you determine the value of your rare and collectible coins and can even help you get a great price for them. Simply contact us or stop by one of our locations today for a hands-on, no-obligation consultation. We're here to ensure a smooth and enjoyable selling experience from start to finish – and most importantly, a favorable price. Contact us today.